Winfield High School
Class Of 1972
In Memory
Howard Lockyear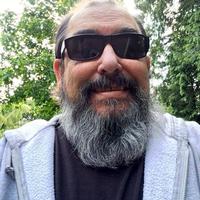 Howard Kent Lockyear
May 18, 1954 - August 25, 2018
Howard Kent Lockyear, partner, father, brother & friend passed away Saturday August 25, 2018 at his home in Mt. Vernon, Washington. He was 64 years old. Born May 18, 1954 to Bill and Deanie Lockyear in Winfield, Kansas. He attended school in Winfield, graduating from Winfield High School in 1972. Howard also studied psychology at Cowley County Community College.
Howard's first love was his guitar: he began playing at the age of 15 and played vigorously throughout his life. In 1972 he went to work for Stuart Mossman at SL Mossman Guitars, where he became a stockholder. Howard rejoined Stuart in 1983 to help make the final 25 "museum pieces" for Mossman. He also spent short stints in guitar shops owned by Steve Mason, Scott Baxendale and Mark Tossman.
Howard was talented at many things, including commercial and residential painting, and was well known for his cooking, especially hash browns. Howard's number-one job was raising his daughter, Sarah, and helping to raise his step-sons Matthew and Patrick Watt. He took much pride in his children and their accomplishments in life.
He is survived by his partner-in-life, Charlene McPherson, of the home, daughter Sarah Lockyear of Topeka, Kansas, step-sons Matthew Watt and wife Anna of Turku, Finland, and Patrick Watt of Lawrence, Kansas. He is also survived by 2 sisters: Cindy Burkett and husband Mike of Marietta, Georgia, and Lori Applegate and husband Kirk, of Kissee Mills, Missouri, and 2 brothers: Scott Lockyear of Emporia, Kansas, and Monty Lockyear and wife Kerri of Waukee Iowa. Howard is also survived by a Granddaughter, Elsa from Turku, Finland, several nieces and nephews, and his dogs Sprocket and Teddy.
He was preceded in death by his mother Deanie Lockyear of Winfield, his father Bill Lockyear and step-mother Sharon of Forsyth, Missouri.
Funeral services will be held at 2:00 P.M., Saturday, September 22, 2018 at Miles Funeral Service in Winfield. Interment will follow at Highland Cemetery.