Winfield High School
Class Of 1972
In Memory
Kristy Lawrence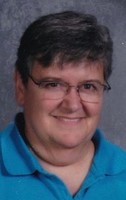 BUXTON, Maine — Kristine Louise Lawrence, 61, of Buxton, Maine, longtime educator, passed from this life May 6, 2016, at home with the support and presence of her loving family.
A private family gathering will be held at a later date.
Arrangements are by Chad E. Poitras Cremation and Funeral Service, Buxton. Online condolences can be submitted to www.mainefuneral.com.
Memorials are to the American Cancer Society.
Kristine was born May 16, 1954, in Winfield, the third child of Gerald and Junea Lawrence. Her early life on the family farm helped form the loving and strong personality which was to carry Kristy through her many adventures. She enjoyed many pursuits such as sewing, quilting, music, reading, photography and traveling the country in her camper.
Kristy graduated with a bachelor's degree from Southwestern College and a master's degree from Wichita State University. She taught in the Kansas and Maine school systems, retiring from Scarborough High School. Kristy was loved and respected by the many people whose lives she touched.
Kristy's father Gerald Lawrence preceded her in death.
She is survived by her mother Junea Lawrence, Winfield; brother Terry Lawrence and wife Anne, Winfield; sisters Kathleen Michael, Evanston, Wyo., Joanna Orr and husband Blaine, Branson, Mo., and Julie White and husband Brian, Edmond, Okla.; numerous nieces, nephews, aunts and uncle. She also leaves many friends who have shared many heartfelt memories.
(from the Winfield Courier)