Winfield High School
Class Of 1972
In Memory
Chris Kaufman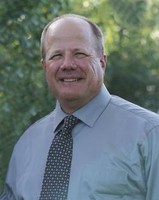 Christian Kaufman
(October 29, 1954 - March 20, 2016)
Christian Harder Kaufman, 61, passed away March 20th 2016 in his home surrounded by his family.
Chris was born on October 29, 1954 in Denver Colorado, the son of Dr. Leland and Joan Kaufman. Chris graduated from Winfield High School in 1972 and from The University of Kansas in 1976.
Chris married Jane Liermann Kaufman in 1977. Together they had three children, John 34, Caroline 30, and Alexandria 27. Chris and Jane resided in Winfield, Kansas where he owned Kaufman Sporting Goods with his brother David. After the brothers sold the store, Chris worked as a corrections counselor for the Winfield Correctional Facility for 30 years. In addition, Chris was an accomplished basketball, football, and baseball official for 40 years. He also served as the league commissioner for the South Central Border League and an area supervisor for the State of Kansas for many years. Chris has received many honors during his years of officiating, including; National Federation of High Schools Official of the Year, Jerry May Award, Greater Wichita Officials Association Hall of Fame, and KSHSAA Official of the Year.
His many hobbies included his family ranch, hunting, fishing, KU Athletics, and the Kansas City Royals.
Chris is survived by his wife Jane, son John and his wife Kiersten, grandson Jett and baby Christian due in August; his daughter Caroline; his daughter Alexandria and her husband James Doyle. His father Dr. Leland Kaufman and mother Joan; brothers David Kaufman, Tony Kaufman, Patrick Kaufman and his sister Kathy Martin. Chris is preceded in death by Harry and Martha Jeanne Liermann.
The funeral services are Friday, March 25th at 10am at First United Methodist Church in Winfield.
In lieu of flowers, a memorial has been established with Officials Against Cancer. Donations may be sent to Miles Funeral Service.