Winfield High School
Class Of 1972
In Memory
Harold Bonnell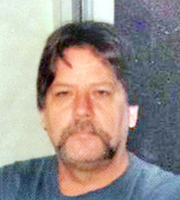 From the Winfield Courier:
PHOENIX, Ariz. — Harold Thomas Bonnell, 59, of Phoenix, Ariz., formerly of Winfield, passed away peacefully in his sleep on March 17, 2014.
Visitation will be from 10 to 11 a.m. Saturday at Latter Day Saints Church, 11650 N. 35th Ave., Phoenix, AZ 85053. A service will follow at 11 a.m. Burial will be in Phoenix Memorial Park, 200 W. Beardsley, Phoenix.
Arrangements are by Hansen Chapel, 8314 N. Seventh St., Phoenix, AZ 85020
For online condolences, visit www.hansenmortuary.com?
Harold was born Sept. 25, 1954, to Bobbie Joe and Roberta Ann Bonnell.
On Sept. 26,1977, Harold married Kristy Gay Dixon, and together they have raised eight children.
Harold devoted his life to his family and gave his unconditional love as a husband, father and papa. He was a friend to everyone he met. To his children, he was their hero and was the best dad they could ask for.
Survivors include his wife, Kristy Gay (Dixon) Bonnell; eight children and their families, Josh and Marsha Bonnell, Alia and Jeremi Tate, Eli and Mellisa Bonnell, Caleb Bonnell, Kayt and Michael Harris, Breizy and Matt Echols, Zeke Bonnell, Zach Bonnell and Josh Morris; and 14 grandchildren.
http://www.winfieldcourier.com/obituaries/article_fc06edd6-afe9-11e3-9297-0019bb2963f4.html