Winfield High School
Class Of 1972
In Memory
Larry Asbury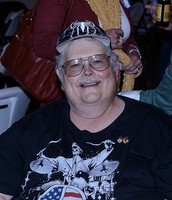 Lawrence J. Asbury
(August 31, 1954 - November 5, 2015)
Lawrence J. Asbury, 61, of Winfield, Kansas, passed away Thursday evening, November 5, 2015 at Diversicare of Haysville.
Born August 31, 1954 in Winfield, Kansas, he was the son of John B. and Norma J. (Rowe) Asbury. He was raised and received his education in Winfield, graduating from Winfield High School in 1972. While in school, he worked for the Winfield Daily Courier as a newspaper delivery boy.
At the age of 16, he began working part-time for Safeway Grocery. He remained at Safeway for several years and eventually worked for their Homeland Branch. Throughout the years he was transferred to several stores including Winfield, Enid and Blackwell and retired as a Produce Manager. Lawrence enjoyed going to the movies with his father.
His family includes: His father: John Asbury of Winfield; and His sister: Brenda L. Asbury of Arkansas City.
Lawrence was preceded in death by his mother, Norma Asbury.
Memorial services will be held on Friday, November 13, 2015 at 2:00 P.M. at Miles Funeral Service in Winfield. Inurnment will follow at Rose Valley Cemetery east of Winfield.
A memorial has been established in Lawrence's name for the Cowley County Humane Society. Contributions may be made through the funeral home.
Photo from 40th Reunion
Obituary From Miles Funeral Service